Let's now look at the financial data so we can tie the marketing activities and results to the money — to the penny even!
START HERE: We typically start with the 'marketing spend' report produced by the accounting team.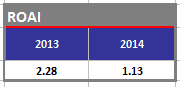 We'll look at all advertising activities that you have spent money on; including magazine ads, trade journal advertising, online and email advertising, trade shows, radio spend, banner ads, direct mail. Now, we'll define exactly what each ad is bringing you, how much each customer is costing you to attract, and even the cost per each inquiry (a.k.a cost per lead).
You'd be surprised at how much waste (leads "falling through the cracks", leads not followed up with, wrong telephone numbers on ads, bad emails or urls, poorly written ads, etc.) is created in this process — and now we can help you to:
 1.) Identify the waste — and clean it up, and
2.) Locate great opportunities!
True cost cutting and revenue generation at its best!
We'll precisely measure each campaign against one another in dollars and production; month over month, season vs season, even hour vs hour.
A marketing spend report is usually pulled right from an accounting program.

In the next Step (Step #3), you'll know exactly where to put your dollars …
About Your Strategic Marketing Partner
Sam Hirschberg, MBA, is Your Strategic Marketing Partner. Always professional and a delight to work with, Sam is not a typical "marketing consultant". Unlike most consultants, Sam doesn't just tell you that you have a problem and say, "See you later and good luck!" He knows how to find solutions, execute programs, test and measure campaigns, and how-and-when it's time to roll-out big! You are invited to call (602) 892-0777 to learn more about Sam's background on his FREE 9-minute recorded message.  For more information about Sam, please visit https://strategicmarketingpartner.com.