THE WARNING SIGNS
Website traffic has increased 400% in 12 months — but conversion rates have decreased 300%!
THE PROBLEM
Traffic is going up but conversion rates are going down!
THE SOLUTION
Your Strategic Marketing Partner (SMP) first identified "the warning signs", developed an assessment on what was happening and then crafted a strategic plan.  Then "Your SMP" developed a highly targeted online lead generation system — collecting new leads and sales from both on-line and off-line sources of business — increasing conversion rates by 554% and slashing cost per lead from $7.10 CPL to $1.90 CPL!
Build Your Strategic Action Plan
Together, we are going to organize the strategic plan into bite-size chunks. After all, action is what this phase is all about.  And that's the focus.  But not just any random actions.  Your plan must be broken into easy bites based on the intel gained in Step 1-3.  Here's what an action-focused calendar looks like: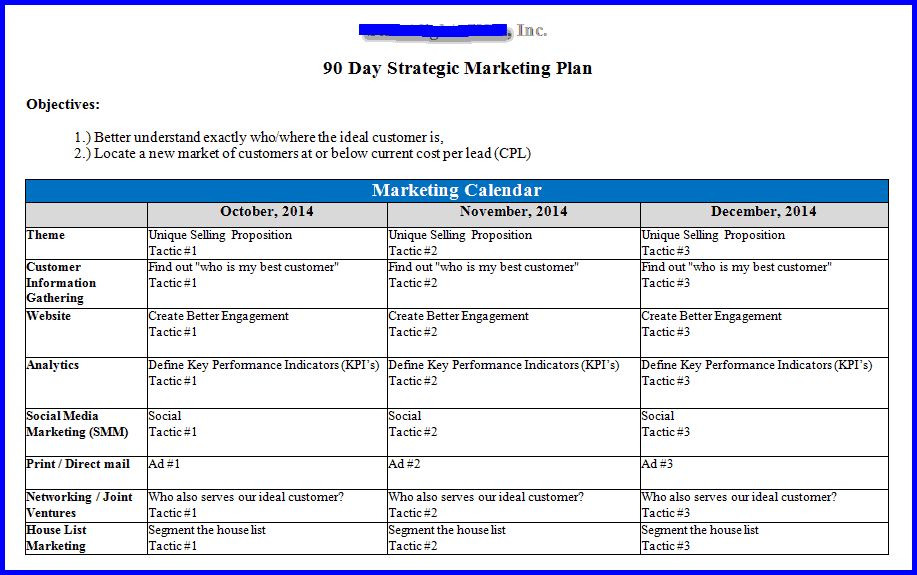 Together, we can discover if results this good, or better, can be yours, too.

About Your Strategic Marketing Partner
Sam Hirschberg, MBA, is Your Strategic Marketing Partner. Always professional and a delight to work with, Sam is not a typical "marketing consultant". Unlike most consultants, Sam doesn't just tell you that you have a problem and say, "See you later and good luck!" He knows how to find solutions, execute programs, test and measure campaigns, and how-and-when it's time to roll-out big! You are invited to call (602) 892-0777 to learn more about Sam's background on his FREE 9-minute recorded message.  For more information about Sam, please visit https://strategicmarketingpartner.com.