About Sam
Samuel has a Master of Business Administration (MBA), a Bachelor of Science degree in Business, Cum Laude and holds an Associates in Science Degree (AS) in Natural Sciences and a second Associates in Arts Degree (AA) in Social and Behavior Sciences. Sam is also a certified tennis professional with the United States Professional Tennis Association (USPTA).
Samuel Hirschberg began his career in sports and fitness as the Head Tennis Professional at the prestigious Ojai Valley Inn & Spa Tennis Center (http://www.ojairesort.com), a 5-Diamond resort and spa located in Ojai, California. Samuel served the Ojai Valley Inn & Spa for 10+ years where he "gained stellar customer-service training from the best in the hospitality industry."
After a successful career in tennis, combining his education and passion for direct marketing and business development, Samuel served as the Director of Business Development for a leading niche school in southern California, where he managed and developed a team of over 400 sales representatives, started and oversaw the Internet marketing division, published hundreds of successful press releases and articles, became published in the Washington Post, Readers Digest, Los Angeles Times, BusinessWeek.com and countless publications worldwide. Samuel also authored a series of continuing education courses (CEUs).
Samuel then served as the Vice President of Marketing and Advertising for a leading fitness franchise, where he helped over 500 International locations grow their market share and led the marketing departments for franchise growth, helping the organization grow from 330 units to over 700 locations. In addition, Samuel served as Vice President of Franchise Marketing for a leading therapeutic massage franchise that grew from 0 to 120 locations in just 18 months.
Samuel also developed the Personal Trainer Central Career Development Center assisting personal training professionals to learn from leading, niche-specialized fitness trainers through a cutting-edge distance education platform. Sam also developed a positive, uplifting resource at MentalStrength.com, where he has brought cutting-edge experts to teach and educate fellow high achievers on how to reach ever-higher levels. Samuel also has served as the Chairman of the Board of Directors of the Port Hueneme Chamber of Commerce and was active in the Chamber Alliance of Ventura and Santa Barbara Counties which promotes business friendly legislation.
As Your Strategic Marketing Partner, Samuel consults with multi-million dollar organizations providing services such as strategic planning, marketing branding, direct marketing, technology-based communications, return on investment (ROAI) tracking, analytics, sales and marketing, business development — and voratious testing and execution of ideas and strategies.
You are invited to call (602) 892-0777 to learn more about Sam's background on his FREE 9-minute recorded message. At anytime during the message, you can press "0" and leave Sam a private voice mail message.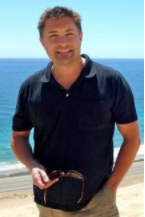 -Dr Sal Arria, Executive Director National Board of Fitness Examiners (www.NBFE.org)
"Sam was instrumental in helping us to launch the National Board of Fitness Examiners (NBFE) — his public relations campaigns and professional advertisements to the marketplace were well received."
Mike Stein, Vice President
International Sports Sciences Association (www.ISSAonline.com)
"Sam is a true professional, a delight to work with and I look forward to having him work on our business development and project needs for years to come."
– Scott Wendrych, CMO
Fitness Together Franchise Corporation (www.FitnessTogether.com)
elements therapeteuic massage, inc. (www.touchofelements.com)
"Sam has improved our marketing systems by establishing the necessary systems to track and establish ROAI's (return on advertising investment). He enhanced all our advertising efforts — both for franchise acquisition and for franchisee client acquisition — over 700 locations!"
– Matthew H. Bogart, Sales Manager
Franchise.com (www.Franchise.com)
"The reality of it now that I look closer at the data; the ad copy year to date has converted at 8.31%! That puts their conversion of viewers to inquiries in the top 5 of our 160+ customers. It's ahead of brands like 7-Eleven and Subway! As I see it, somehow you were able to take ad copy that was already performing well above the average and somehow increase the conversion by a significant amount. Thanks for your efforts on behalf of one of our best (and most favored frankly) clients."
– Patrick Pounders, Franchise Executive
I have worked with Sam on and off for the past 5 years and from day one when I started working with Sam as the Director of Franchise Sales for a 700+ International franchise network, I was blown away by the number of quality franchise candidates he was able to bring in! Day after day he kept the phone ringing and candidates contacting us in a marketplace where most lead generation systems are stale. The creative campaigns he developed and oversaw were flat out awesome. He did exactly the same thing for a second start up franchise model and not only kept our corporate office lead flow on high but also kept over 60 area developers with targeted marketing campaigns. Sam is a creative marketing genius, a pleasure to work and excellent team leader. It has been my pleasure to work with Sam and I highly recommended him for any organization.